The Gardening Festival 2004
This year four Kingston artists showed their work namely Bob Blendermann, Mary E. Crawford, Jill Greenaway, and Denys Mailhiot . Below, Mary Crawford stands in front of some of her work.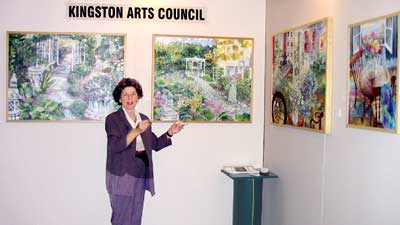 The Kingston Arts Council's involvement with the Gardening Festival, presented by the Lung Association is a unique partnership between the two organizations. It provides some of our artist members with the opportunity to show their artwork in a venue where one normally would not expect it. Flowers and art, a beautiful combination indeed.
All photos were taken by Gerry de Jong.