Have we elected champions of the arts?
Huge thanks to the over 200 arts supporters who came out to the All Candidates Meeting "Focus on the Arts" on November 6th to hear who would likely be champions of the arts on Kingston's new City Council. After presentations by the Mayoralty and Councillor Candidates Julian Brown, who came attired in the Kingston Arts Council Bingo outfit, kicked off a lively question period and made the point that the KAC, like so many other arts organizations, relies on Bingo to cover many costs. We are pleased that a number of arts champions have been elected and are looking forward to improved support for the arts in Kingston in the future. The meeting was a joint effort with the Canadian Federation of University Women, Friends of the Tett and the KAC. (Please note below the "Urgent Arts Advocacy Request" from Jan Allen of the KAC Advocacy Committee.)
The Juried Arts Salon for 2007 is on its way with the appointment of Valerie Westgate as Project Manager. She brings excellent experience to the position, including organizing exhibitions, film production, jurying and working with volunteers. Valerie's position is supported by the Healthy Community Fund of the City of Kingston.
We are pleased to announce that the Wellington Street Theatre will continue as a theatre for another year and the KAC will remain in its present space. This means that the Kingston Arts Council Gallery will be available for shows during 2007. Please contact Sally Chupick, the gallery supervisor, for more information.
An exciting development for us is that the KAC will be embarking very shortly on a Feasibility Study to develop something new for Kingston, an Arts Information System. This will be carried out with the help of a grant from the Community Foundation of Greater Kingston. We will keep you informed as the work on this project unfolds.
Margaret Hughes
President
Art Auction Fundraiser Gala Event
December 3, 1- 4pm
Wellington Street Theatre
TICKETS $20 at the Grand Theatre Box Office (613) 530 - 2050.


The art auction is a joint fundraiser for the Modern Fuel Artist-Run Centre and The Grand Theatre Restoration Foundation. Tickets for the art auction are $20 at The Grand Theatre Box Office. View their site: Art Auction
OUR COMMON WEALTH
Reviews: November, 2006
Oliver Schroer's "Camino"
Reviewed by Wayne Smith
Sunday, November 12
Wellington Street Theatre
Spiritual peaks were scaled in downtown Kingston this past Sunday. An evening at the Wellington Theatre set the stage for a musical and visual journey along the El Camino, or "the way". <<full review>>
The Great Mozart Hunt
Reviewed by Sylvia Grant
Sunday November 12
Kingston Symphony Orchestra
George Zukerman, Bassoon
Ron Hadler, Actor
Like many others, my friend Alex and I were only too happy to brave the chilly (yet thankfully, dry) November afternoon to journey to St. George's Cathedral for our first ever Kingston Symphony Association performance: The Great Mozart Hunt. <<full review>>
Art Auction Fundraiser Preview
Reviewed by Chris Miner
Auction Previews Nov.22, 23 from 2-7 pm
Friday, Nov. 24 from 2 - 4pm
Kingston Arts Council Gallery
It was polygamist love at first sight. At about twelve years old, I acquired a book about modern art and obsessed over Arp, Miro, Klee, Kandinsky, Picasso, Pollock, Chagall, Maholy-Nagy, Dadaism, Futurism and the like for years. <<full review>>
The Master Builder
Theatre Kingston production
Nov. 22-Dec. 2, 2006
Wellington Street Theatre
Reviewed by Wayne Jones
Henrik Ibsen wrote The Master Builder in 1892 when he was in his 60s, and the basic story is fairly simple. Halvard Solness is a middle-aged architect whose great successes are all behind him now, and he fears that his prominence will be usurped by Ragnar, the young son of his dying business partner. He's having an affair with the bookkeeper—and Ragnar's fiancée—Kaia, and in the midst of his worry about failure and madness he and his wife Aline are visited by the mysterious Hilda, who may or may not be trying to save or destroy him. <<full review>>
A Thousand Joys - Carmina Burana
The first chorus of Carl Orff's Carmina Burana - Fortuna, Imperatrix Mundi (Fortune, Empress of the World) - is meant to and does strike some terror in the listener, with its percussion and protesting, dissonant chords. <<read full review>>
Sign Up to receive Common Wealth Reviews hot off the press!
December Reviews:
The Messiah: Kingston Symphony Orchestra Dec.6, 7
Chris Alfano & David Braid Dec. 7 Noonhour Jazz
Amahl and the Night Visitors Dec.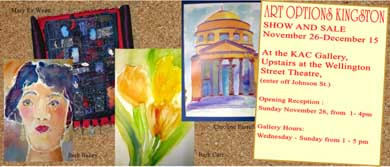 ART OPTIONS KINGSTON SHOW AND SALE
November 26 to December 15
Kingston Arts Council Gallery
(The Upstairs Gallery)
Gallery hours are Wednesday to Sunday between 1 pm to 5 pm.
The Birch Bark to Wild Rice

Our project begun in the late summer is nearing completion at the St Lawrence College Native Resource Centre. During October and November Eartha, the Centre Co-ordinator, and Mitchell Shewell, have been teaching groups of primary schoolchildren about the cultural traditions of wild rice gathering and the building of the birch bark canoe. A booklet on the subject matter covered was printed as part of the project. The beautiful birch bark canoe, built by hand by Chris Wabie and a group of teenagers entirely from natural materials, will now be housed at the Native Resource Centre where it will be used from time to time for educational and cultural purposes to illustrate the rich heritage of the First Nations of our area.
This project has been supported by the Ontario Arts Council and the Healthy Community Fund of the City of Kingston.


12th Night Art Gallery Tour
Thursday, November 30, 2006
Downtown Kingston businesses open their stores from 6 pm to 10 pm for Twelfth Night. Each store will show the work of one or more local artists as well as providing the public with free hors d'oeuvres.
This year posters and handbills will note not only the names and addresses of participating businesses but will also list which artist is exhibiting at which business. Any questions please feel free to contact Jan at Downtown Kingston! 613-542-8677
A message from the Advocacy Committee of the Kingston Arts Council: 28 November 2006
Dear members of the Kingston arts community,
The 6 November Arts All-Candidates meeting was successful in putting the arts on the political map in Kingston. Happily, many of the most informed, arts-aware candidates were elected!
In order to maintain our momentum, it will be important for arts supporters to speak with their councilors and the freshly re-elected Mayor, to ask them to initiate and support a strong budget allocation for Kingston arts organisations. The 2007 budget is being drafted now and, if the arts do not have a substantial budget line, it will be another year before we see significant restoration of civic support to this vital sector.
Amid the flurry of preparations for the festive season, please take the time to contact your municipal representative to reiterate the urgent need of the arts community for a balanced and substantial municipal program of funding for the arts. Our research on arts funding in peer cities suggests that a $500,000 allocation to arts groups would be a useful starting point.
The second key point we ask that you raise with your representatives is the need for an Arts Advisory Board of the City. Oddly, during the all-candidates meeting many politicians spoke as though this is an established Board: it does not yet exist and requires the approval of Council to come into being. This Board must consist of a representative cross section of knowledgeable, respected members of the arts community. Its mandate would be to advise and communicate with City staff and elected representatives on arts programs. It should play a strong role in shaping the City's Cultural Policy, recognizing that, without a good Cultural Policy based on the real needs and aspirations of Kingston's arts sector, City initiatives will fail to bear fruit, and will risk wasting resources and working at cross-purposes. The Arts Advisory Board would also have a mandate to advise on arts funding allocations through an expert peer jury system, the mechanism recognized as the best guarantor of high quality and effective arts programs.
Please make that call, or send that email! We can make an impact if we act in concert in this way. You will find your Councilor's contact information on the City web site at http://www.cityofkingston.ca/
With thanks, and best wishes for the holidays,
Jan Allen
Chair, Advocacy Committee of the Kingston Arts Council
Third Annual STUDENT ART CONTEST!
March 1,2,3 & 4, 2007
Kingston Arts Council Coordinator: Gerry de Jong
This will be the third Student Art Contest that the Kingston Arts Council is coordinating in partnership with The Lung Association and Communities in Bloom.
We are very pleased that the following two schools have agreed to participate this year:
J.E. Horton Public School & Rideau Public School
KAC arranges to have artists go to these schools to guide students in creating works of art.
The best of the artwork, as selected by a KAC adjudicating team, will be on display at Portsmouth Olympic Harbour during the Gardening Festival, March 1-4, 2007.
The Lung Association organizes a special "Family Night" on Friday evening, March 2, 2007, at reduced family rates, with activities geared to families and a presentation of awards for the best artwork as selected by the KAC adjudicating team.
Awards for the best artwork in three categories: Grades 1-3, Grades 4-6 and Grades 7-8 are sponsored by the Kingston Arts Council and Wallack's Art Supplies.
HURRICANE
We waited all evening for it,
with candles and beer, in the unfinished
part of the house. All around us the slow
progress of your new life - everything still exposed,
the stiff uprights that would support the walls,
the nests of wire.
We gave up, went to bed, and then I heard you scream
when the tree fell behind the house, missing it
by inches. When we opened the back door, a mesh
of leaves covered our faces. We went out then,
unwisely, into the swirling wind and the bright
green sky, the pop of transformers blowing, and
the entrails of wires dripping from the trees.
The wind was wild above us and we walked
below in a canopy of stillness. You are lucky,
although you would never say that about yourself,
but the night had spared your house, your car,
your boyfriend's truck, the plans you have together.
The streets smelled of wet, green wood. Huge
trees had fallen in an instant, each still shod
in a giant, earthen slipper, leaning wearily
into each other or resting on a sagging net of wires.
How hard it is to know what is the new life
and what is the world ending.
by Helen Humphreys
Helen Humphreys is an award-winning poet and novelist. Her novel "Afterimage" was nominated for the Commonwealth Writers' Prize and won the Rogers Writers' Trust Fiction Prize in 2001. "The Lost Garden" was a 2003 Canada Reads selection. Her latest novel "Wild Dogs" was published in 2004 to more critical praise. Helen Humphreys lives in Kingston and often appears at poetry readings.
The Kingston Arts Council Gallery is a busy place!
Two exhibitions take place back to back this month. The art auction preview for Modern Fuel and The Grand fundraising committee will continue in the gallery space until Nov. 24 from 2- 7 pm. Items for the fundraising Art Auction to be held on Dec 3 in the Wellington St. Theatre are on view at this time. November 26, ART OPTIONS KINGSTON (AOK) will host it's opening reception from 1pm-4pm for a show & sale of artwork. The show will continue until Dec. 15, open 1-5pm Tues -Fri; and 11am-5pm on Sat & Sun. Come out and enjoy some great local artwork.
The Kingston Arts Council Gallery space is large and bright, however it does share space in the Wellington St. Theatre building with some offices on the main floor and upstairs. Due to the fact that it is a huge old building with exceptional acoustics(!), sound carries easily from one space to another; especially in the entrance hall & upstairs in the gallery. During office hours, signs will be posted to remind visitors to the gallery to take note of this.
Now that the Kingston Arts Council lease has been renewed for another year, the gallery is again open for arts council members to book exhibitions for shows for the upcoming year. Please contact Sally Chupick at phone # 613-531-4545 or [email protected] if you wish more information about this, or to book a time for your group's show in the gallery.
About this E-Mail
You received this email because you are an Arts Council Member or a former subscriber to ArtsBUZZ. Please contact us if you do not wish to receive this email.
Remove me from this newsletter.
If you are not subscribed and wish to be, please SUBSCRIBE HERE.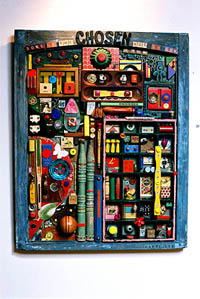 Members Events Listing
"Hurricane" -
a poem by Helen Humphreys

Read a Selection from
Kingston Writers
KAC will publish a selection of the work of Kingston writers as we receive them. If you are an emerging or established writer, and would like to be published on our website, please email us. If you would like your own Artist's page in order to have more space for publication, please consider taking out a Membership in the Kingston Arts Council.
Go on a 10-day inclusive trip, on the Island of Korcula, Croatia, in the Adriatic Sea. The first tour is May1, 2007. There will be 3 other trips in June, September and October. Please visit their website for more information.'
Lynda Milina
Tel. & Fax: 613-241-9631