During the 2011 Election campaign, we'll be trying to post regularly and update you on what's happening in the arts. For quicker and more regular updates, friend us on Facebook or follow us on Twitter:
http://www.twitter.com/artsking
https://www.facebook.com/kingstonartscouncil
The KAC will try and remain non-partisan throughout the election - however, personal biases may sneak through from time to time, and there is currently very little being discussed on Arts issues. We'll post what we find, and whatever you send us that is arts related. Help keep us informed!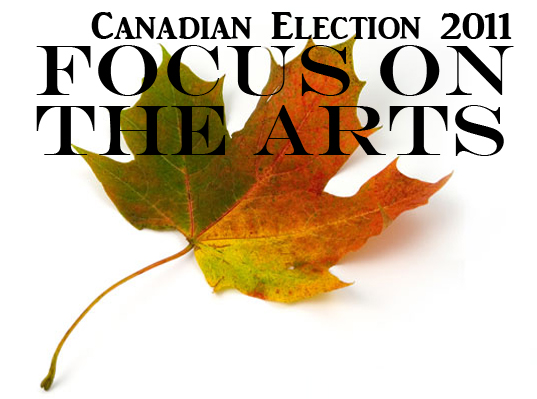 Liberal Platform - Your Future. Your Family. Your Canada.
(Excerpts on arts, culture and heritage on pages 18-19 and 60)
Green Party Platform – VisionGreen
(Excerpts on arts, culture and heritage on pages 94-96)
Conservative Party Platform - Steven Harper: Here for Canada
(Excerpt on Support for Culture and the Arts on Page 43)
New Democratic Party Platform - Practical First Steps
Follow your local candidates here:
Green Party, Eric Walton: Website Twitter Facebook
New Democratic Party, Daniel Beals: Website Twitter Facebook
Conservative Pary, Alicia Gordon: Website Twitter Facebook
Liberal Party, Ted Hsu: Website Twitter Facebook
Leaders' Debates
English Debate – April 12, 2011 Time: 7 pm – 9 pm EST
French Debate – April 14, 2010 Time: 8 pm – 9 pm EST
The Broadcasting Consortium, which includes CBC/Radio-Canada, CTV, Global and TVA, will hold both the English and French-language leaders' debates. The English-language debate will be moderated by TVO's Steve Paikin, while Radio-Canada's Anne-Marie Dussault and TVA's Paul Larocque will co-moderate the French-language debate.
Social Media
Social media will help you stay on top of the latest news from the election frontlines and communicate with individuals of shared interests. Here are some tips on how to effectively use social media during the election period:
Follow each political party or their leaders on Twitter:
Bloc Québécois: @BlocQuebecois and @GillesDuceppe
Conservative Party: @PMHarper
Green Party: @CanadianGreens and @ElizabethMay
Liberal Party: @liberal_party and @M_Ignatieff
NDP: @jacklayton
· When you're tweeting and looking for election related tweets, use the following hashtags: #elxn41, #cdnpoli, #fed2011 and #artsvotecan. If you're tweeting about a specific political party, you can also use the following hashtags:
Conservative Party: #cpc
Green Party: #gpc
Liberal Party: #lpc
NDP: #ndp
Follow each party or their leaders on Facebook:
How to vote
If you have any questions or concerns about the voting process itself, we encourage you to visit Elections Canada's website. It includes information on:
· How to vote;
· Finding your electoral district and member of Parliament;
· Backgrounders on the electoral process;
· And more